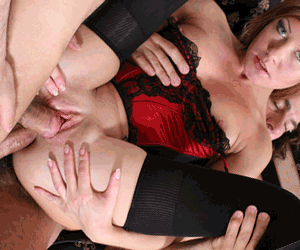 13 VIDEOS (LATEST UPDATE 11/07/2019)
LINKS SOCIAL NETWORK
FILM ON DEMAND
Best Bodies In XXX 2, Breast Worship
AKA
Amy Reed, Amy Reid, Devin Valencia
BIOGRAPHY
So, is it Amy Ried or is it Amy Reid?
Well, according to the lady herself, it's Amy Ried even though many of her titles have her listed as Reid.
Plus, to add to the confusion, for the first couple of years of her career she was known as Devin Valencia.
And if all THAT wasn't bad enough, her iMDB entry has her 15 most recent movies under a spelling of Amy Reid.
Maybe she should go back to being Devin Valencia?
Whoever she chooses to be and however she chooses to spell it, there is a whole lot more to talk about surrounding this German pornstar than her name.
Born in Frankfurt in 1985 (she calls herself 'an army brat' – her parents were in the armed forces), she was raised mostly in southern California of a French / Indian background.
Her childhood was a relatively unremarkable but happy one, culminating in 2 years at college studying mechanical engineering.
Shortly after college though, she started a dalliance with adult entertainment which quickly became a highly successful career before her feet even had a chance to get close to touching the ground.
For most of her early movies she adopted the screen name Devin Valencia, and immediately found herself the subject of heated attempts by producers to put her in ethnic-themed content.
She even found herself starring in a Hawaii-themed movie.
In the space of 3 years and over 110 movies, she has accomplished so much that the dizzying pace that her career has set makes it difficult to trace her industry beginnings.
It's widely agreed though that she debuted in the Young Ripe Melons series, a good jumping-off point for her to show off her stunning and natural 34D breasts, but her first hardcore appearances are the bone of some contention depending on which source you read.
Suze.net reported that it had signed her to her first hardcore scenes despite several other boy/girl scenes starring her being available on the market at least a good few months before that.
However, many took this as a play on words – the site claimed it had picked up Amy Ried. Many of her previous appearances had been as Devin Valencia.
Nevertheless, it didn't halt the progress of her career one iota, after all she had the chance to work with a great photographer.
But many other such opportunities were to come along anyway.
Her performance in Brandon Iron's Baker's Dozen grew enormous critical acclaim for taking on 12 different men in a gangbang performance that drew praise from the director himself.
But 2007 proved to be the year that she really started to gain major league plaudits for her performances, with an endorsement from Iron that she should become a porn megastar in the vein of Tera Patrick and Briana Banks.
She swiped two different AVN Awards from two entirely different genres.
Winning awards for anal and solo teasing, she showed off to the porn world her versatility, developed over what was, at that point, still a very short career.
Perhaps an even bigger reward than that though was in October 2007 when she became Third Degree Films' first and only contract star to date.
This is a huge compliment to a star who has only been performing for 3 and a half years.
And it seems as though her star is unlikely to stop rising any time soon as she was named a Danni Girl Of The Month for May 2008.
No-one, including her, seems to know what's going on with her name – but pretty much everyone can agree that she is a star who is on an almost unstoppable run.